With the current state of our world its more important than ever to show up at the grocery store with your mask and a meal prep plan in hand. For the last 7 years I have been teaching corporate wellness workshops and my meal prep class is very popular. Never have I ever been happier to be a pro prepper and I'm about to share with you some of my secrets to making a plan for the week. I don't know about you but I don't want to go to a grocery store more than once a week right now in the midst of the Covid-19 outbreak.
Follow along with my step-by-step action plan to Meal Prep. Let me know if you have any questions, or share a success you've had with meal prep.
What is Meal Planning?
What is meal planning? It's the way you organize yourself to cook a meal, whether that's breakfast, lunch, or dinner. It is the plan you make before you shop. Some people plan a month in advance, freezing neatly-labeled packets of goodies. Meal planning is a really personal thing, so take the time to discover what works for you. What works for you may not work for me. The goal is to find a process that is both enjoyable and effective for your individual style. Good thing we have some time on our hands right to focus on our health + nutrition! Its a great time to start some healthy lifestyle habits that will last beyond this quarantine and increase your health at the same time.
Getting Started
Start out your meal plan with a review of your fridge and pantry stock. Search through and write down what staples you have and what produce is nearing the end of it's "fresh" life. You have now created a great place to start planning so that you can minimize waste and get inspired create to recipes with what you already have at home. I often find that I may not even need to go to the store when I take stock of what I already have on hand.
1. Make a Meal Plan
It sounds obvious, but you will want to sit down and think about your week and how many meals you need to make. Then decide on if you'll want to prep more snacks or try out a new lunch recipe. Use our handy print out you can download here to list of all the meals you want and schedule in your breaks by planning on ordering out. Now is a great time to support a local restaurant and get a much needed break.
When deciding what to meal prep, it might be helpful to theme your days, like Meatless Monday or Taco Tuesday or Take Out Thursday—this way, you won't feel like you're having to come up with ideas from scratch every single week.
2. Schedule It
Put it on your calendar—seriously. Because the easiest way to foil your meal prep plans is to not have it in your calendar and then you cave and eat out or in these crazy times eat In.
Sunday is the most obvious day to do your meal prep for the week, but if you love lazy Sundays that you don't wanna give them up, that's totally fine. Figure out another chunk of time—typically a couple hours from start to cleanup—that works.
Whatever day you decide upon have someone hold you accountable. Tell the kids- Sunday from 3 to 5 p.m. is your meal prep time. Help or Leave me be!
3. Meal Prep Breakfast
Breakfast is one of those meals that's nice to automate for yourself. You don't want to have to wake up and stress out about what to eat. Also, most of us already eat the same things for breakfast most days, so this is a meal that's natural for meal prepping or having on hand ready to go. Especially if you have other mouths to feed its great to have a plan in place.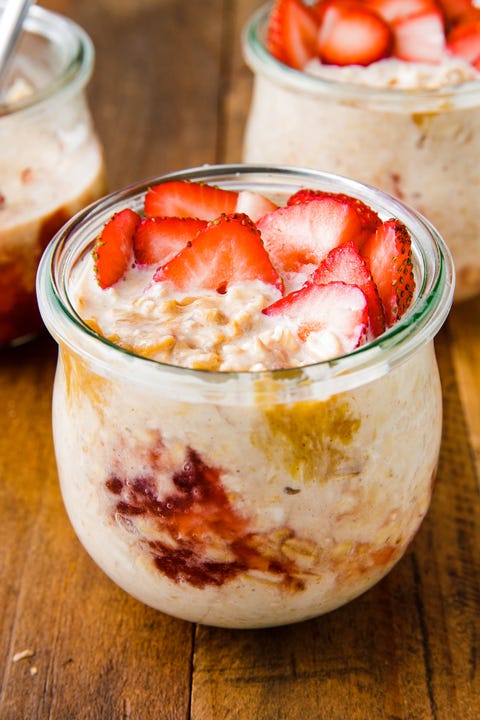 PB&J Overnight Oats
Overnight oats are a meal prepper's dream for their ease: Add almond milk, cinnamon, chia and a splash of maple syrup to a bowl and stir. Put it back in the fridge overnight and bam you have breakfast!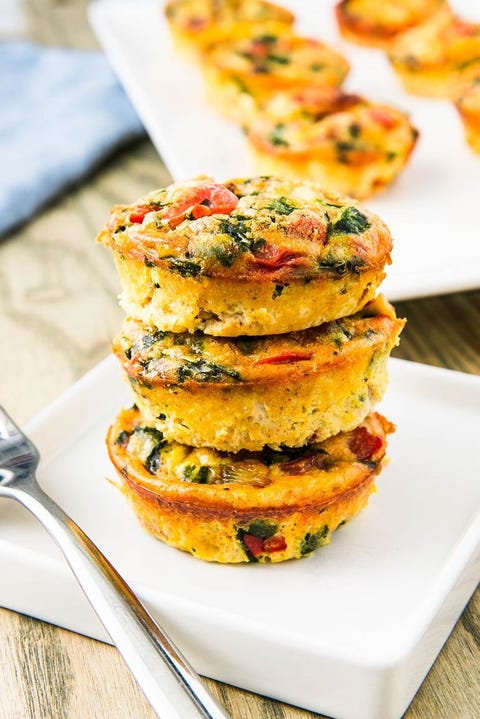 Best-Ever Egg Muffins
Here's a muffin tin hack for ya: These mini frittatas can be filled with basically whatever veggies + eggs you already have in your fridge. Just coat the tin with coconut oil, mix together ingredients from your favorite omelet. I love to use mushroom, spinach, red pepper, dash of sharp cheddar and maybe some turkey bacon. Add salt and pepper mix up and pour in muffin tin. Bake at 350 for about 15 mins and then store in an air tight container. Just reheat and top with avocado and tomato for a delicious protein heavy fast breakfast.
4. Stock Up on Containers
Meal prep is all about the containers—invest in a batch you love that are sturdy and leak-proof. Glass Meal Prep Containers are my favorites you can find the here BUY NOW
5. Dust Off The Slow Cooker
Your slow cooker might become your meal prep BFF: You can wake up Sunday morning, toss some ingredients inside, set it and forget about it until Sunday evening when you want to portion out your meals for the week.
Make the meals feel fresh by making bowls of all types by topping them with sliced avocado, cheese, and fresh herbs before digging in.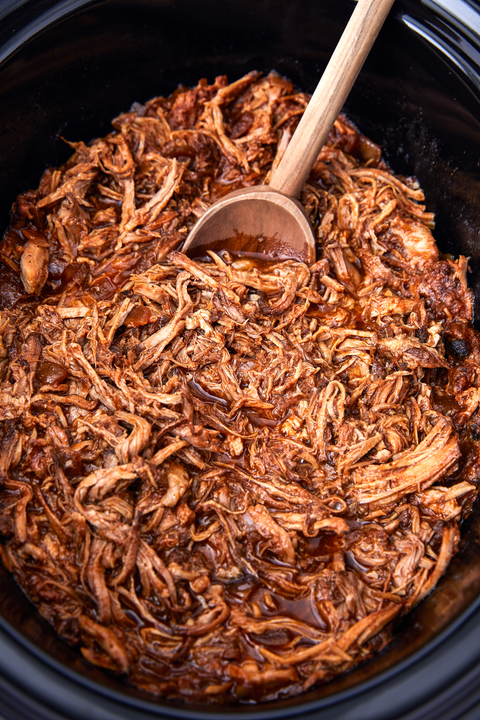 Slow-Cooker Pulled Pork
Pulled pork only gets better as the week goes on and its flavors meld. We love building bowls and tacos with it.
Get the recipe.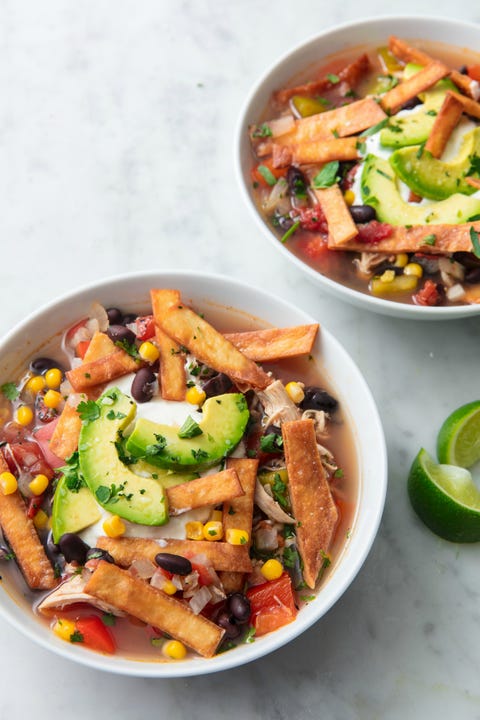 Slow-Cooker Chicken Tortilla Soup
Prep the soup and tortilla "croutons" ahead of time, top with sliced avocado and lime when you're ready to dig in.
Get the recipe.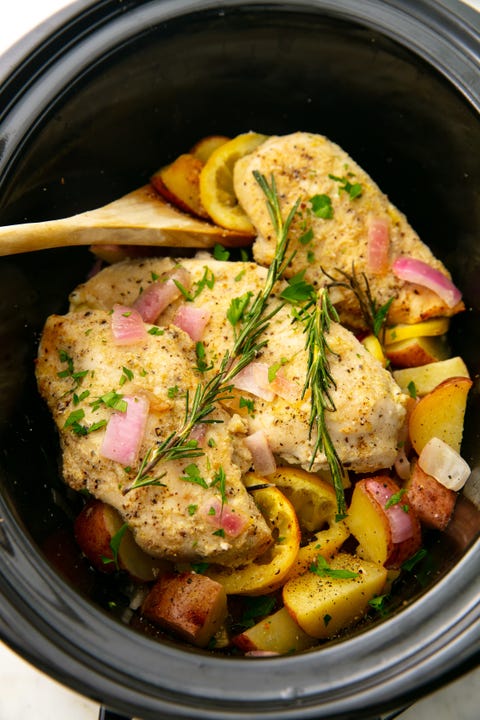 Slow-Cooker Chicken Breast
The ultimate meal prep staple: As long as you have shredded chicken breasts in your fridge you can make anything.
Get the recipe.
6. Know When To Save Time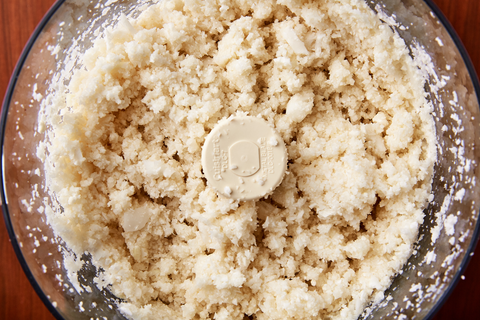 The biggest misconception with meal prep might be that it means making everything from scratch. Wrong. Meal prep doesn't mean you're ricing your own cauliflower if you don't want to. You can still stock up on shortcut staples like rotisserie chicken, canned chickpeas and black beans, cauli rice, frozen brown rice, zoodles, and pre-cut Veggies. These will help ease your prep and make sure you don't spend hours in the kitchen every Sunday.
Ready, Set, Go..
Alright so there you have it everything you need to get started on your way to meal prep excellence. The most important part is that you just get started. I promise you will find your own way and develop a plan that works best for you and your family. In fact, now is a fantastic time to get good at meal prepping which will be a skill that will last you a lifetime, help you reach your health goals and might even become a favorite pastime.
Stay heathly + happy friends
xoxo, Candice